Welcome to part two of Band Interview Bands.
This month Scottish band Vida caught up with legend Steve Cradock, who recently produced their new single  'Where We Came From' and B-side 'Going Around' which features on the Northern Exposure Compilation Album.
Steve Cradock is best known as the guitarist in Ocean Colour Scene. Starting out, Cradock formed the mod revival band 'The Boys' with school friends from Solihull in 1988, playing mostly covers. Despite a strong following and attention from big labels, the band split and Steve formed Ocean Colour Scene in 1989 with Simon Fowler, and Oscar Harrison, Damon Minchella. Their first album failed to make a huge impact, nethertheless after a support slot with Paul Weller and after that Oasis, Ocean Colour Scene was signed to a major label and released their second album Moseley Shoals. The album was a rip-roaring success, reaching number two in the album chart where it spent almost 100 weeks there.
The band made their mark on the British music scene with the albums 'Moseley Shoals' and follow up 'Marchin Already' and sold millions of albums worldwide. Ocean Colour Scene provided us with some of the most stand-out singles of the Brit Pop era when was at its most triumphant, with 'The Riverboat Song'  'The Circle'  'Hundred Mile High City' and 'The Day we Caught the Train'. 
'It came from me being really pissed off one day and I started playing it on the bass. I was just playing this riff to get rid of my annoyance and that became the tune'.
Steve Cradock on The Riverboat Song
The 90's was a great time for music and Ocean Colour Scene are effortlessly cemented as one of the best of guitar bands to come out of the UK. With ten albums under their belt, Ocean Colour Scene are still going strong today.
Steve Cradock is renown for his diligent, driven attitude and not only plays in Ocean Colour Scene, he also joined Paul Weller's band in 1993 too. He has played and toured extensively with Weller and has also contributed to the writing of many of Paul's albums including Wild Wood, Stanley Road, Heavy Soul, Heliocentric, Illumination, Studio 150, As Is Now, 22 Dreams, Wake-up The Nation and Sonik Kicks.
Unceasing to stop there, Steve began work on a solo album in early 2008 with wife Sally, which resulted in album "Kundalini Target" which Steve credits as his best work. "Peace City West" followed and was released in April 2011 and features collaborations with the actor, and also a musician, James Buckley from The Inbetweeners. It also features collaborations with Paul Weller, Sally Cradock, Andy Crofts of The Moons and PP Arnold. His 3rd release "Travel Wild -Travel Free" was mixed and mastered at Black Barn, which is Weller's studio, and was released in September 2013.
Steve lives in Devon with his wife Sally, their two children and continues to play with OCS, work alongside Paul Weller, play in the Songbook Collective (which is also known as Paul Weller's backing band) and plays the guitar with The Specials. 
VIDA
Vida are tipped to be one of the hottest bands coming out of Scotland and are just about to embark on a 'This Feeling' tour with their pals Shambolics. Taking influences from Oasis, Stone Roses, Beatles, and a touch of Tame Impala, the band play 90's classic sounding tunes with their own twist which makes this band stand out from the masses. Described as one of Scotland's best new bands by This Feeling, Vida has been relentlessly touring up and down the country and recently supported The Sherlocks at a handful of their UK tour dates.
A few weeks ago VIDA spent time at Steves recording studio to record and produce their latest single 'Where We Came From' which is due for release in May. 
INTERVIEW
Steve, thanks for taking the time to chat with us! You've just toured Australia with two-tone legends, The Specials, how was the tour? 
Amazing, and what's even more amazing about it, is the two-tone thing goes worldwide, as in its just a wordwide phenomenon still which I think is brilliant.
When you were in OCS we read that you put your success down to Radio 1 DJ Chris Evans putting you as the record of the week with 'The Riverboat Song' for several weeks? We're a relatively new band looking to get radio play, how important do you think radio is to a band's career and do you think it's changed?
Well, we'd been around for quite a few years before that by the time Chris Evans played 'The Riverboat Song'  but him making it the record of the week on Radio 1 (Which at the time and I guess is still the most radio station listened to in England) it kind of got our song out of Birmingham and to the masses. At the same point, I was still playing with Weller and Ocean Colour Scene was supporting Oasis when they were doing stuff like the Leeds Warehouse. We played on that first tour where Noel got smacked in the face by a fan in Newcastle and there were other things bubbling for us. I had also just started T.F.I too and we did the pilot show for that, which is like a show before it gets sanctioned, but again like I say, we had a lot of other things going off.  
Do I think radio is changing? Well, that's a yes and a no, it should change and it shouldn't be playing bands like us. I listen to Radio 6 and they play all sorts of alternative stuff and I also like the DJ's. When you go back to things like Radio 2,  they say to younger bands you're not Radio 2 material. We've got to make way for younger bands. Answer me this, why is Ken Bruce still there? I do agree that radio should be playing new young bands but at the same time should be administering that to the DJ's too, who have their fingers more on the pulse. So radio has changed in the way that it doesn't play bands like us anymore, but at the same time, it hasn't changed because it's still got the same old fogies djing.
Playing with Ocean Colour Scene, Weller and touring with The Specials does it make it difficult to be original with your solo projects, when you are surrounded by so many creative influences?
Well, if I could make a solo album that sounded like all those I'd be fucking over the moon. The thing with the solo stuff is I did it just because Simon wasn't bothered about writing and when I did The Kundalini Target (I still think that's my best work), maybe I should have just done that and then not done anymore. I don't think I've bettered that to be honest with you and you just end up keep doing it and because of the way music recordings gone, we all just end up doing it on our laptops these days. I always have certain ideas and musically they might not all be songs.  I got a bit of a band together and did a second album, which I did in this beautiful barn. I just booked it for a solid month and I only had about two songs, so it just started out really as a fun experiment. I've had some good ideas, I co-wrote a tune with Sharleen Spiteri of Texas and I thought it would be a good idea to get people who can sing on it instead of me or other people I haven't been in bands with.
Any plans for any new music?
I've got about five songs on the go, but I'm nervous about doing it. I'm blaming the fact that I'm really busy on the fact that I haven't done anything.
You've been working with Paul Weller since about 1993, how did your friendship come about?
Well, I think I'd skived a couple of days of school actually and I just wanted to meet Paul. I wanted to meet him because he meant so much to my life at the time and in a fun sort of way it was like trying to meet the messiah. He inspired and still inspires me so much.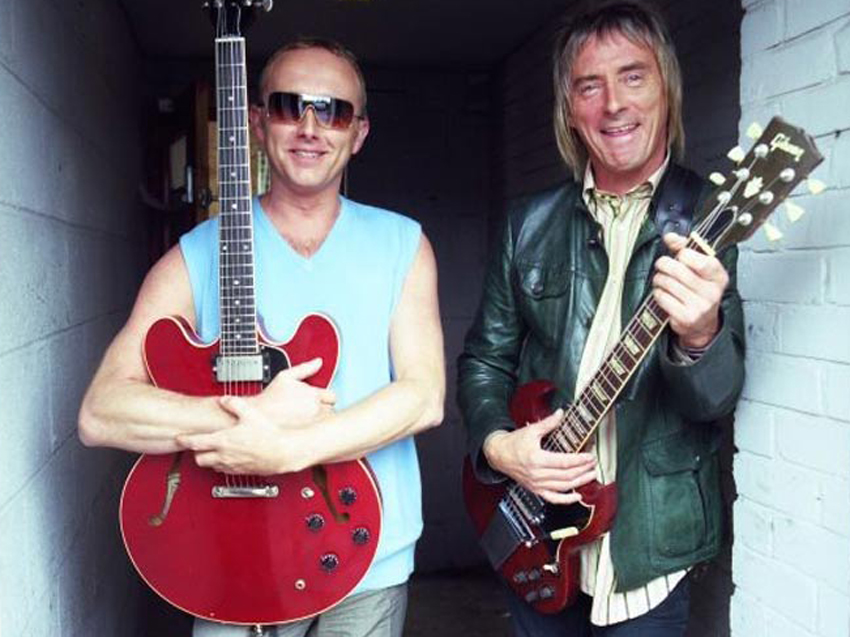 I didn't see Paul again for quite a few years after that and I think Ocean Colour Scene were the last band to record at Solid Bond. We recorded our first album there with Jimmy Miller who Paul did a version of 'Into Tomorrow ' with, so I met him again then and he recognised me from that time. He bought the 'Sway' single, he really liked that single. He offered us two support gigs at the Kilburn National and Southampton Guildhall back in 92 and then about a month after that he just phoned my dad and said he needed a second guitarist and he thought that I would be suitable. Around that time I became very busy and another good thing to come from that is, if you're having to play the guitar every night, you learn to get really good at you craft .
What inspired you to become a Mod and how important is the image when you're in a band?
I think your image is really important to a group, the way you look or it should be anyway. It's the way you portray something but I think I'm too old to be a mod and a lot of its silly loads of people just look like they've got Paul Weller haircuts and I think being a Mod is about wearing clothes that suit you. Everyone knows this right, but being a modernist is expressing yourself isn't it and doing something kind of new. I think the last great mod band were The Stone Roses because the way they were a gang and their image, I thought they were doing something new they had a groove, they were psychedelic, they had great haircuts and they just had the casual look. If there's not another mod revival I won't lose sleep over it because it just ends up becoming a load of bollocks.
Do you keep a look out for unsigned bands and go to gigs and do have a say on the support bands?
I don't go out and watch bands as I'm either out on the road or I'm at home with my family. We always get sent cd's or podcasts or whatever they are these days. We try and choose things between us and our agent. For example, we played 5 nights many years ago, maybe 2000 or something, and we had people like Top Loader, he just came up with a load of names. Coldplay supported us so we had a few different sorts of bands that were coming up at the time. I also get sent a lot of stuff asking me to produce for them but I haven't got much inclination if I'm honest with you as I've just not got the time. It is a thing that I am interested in doing because I do like working with young people, so I fit in what I can. I've just done a few tracks with a girl called Yasmin Kiddle.  It's sort of through a friend of a friend, through Sally, my wife's godson, she's from London and she's got such a spectacular voice. Her songs sound sort a bit more urban than what I'm used to and she's been doing her songs on the computer, which I guess a lot of the younger people do nowadays and she said she didn't like the vocal sound, so I said come down to ours and I'll give you a hand.  She said to me it was really nice in the studio because I actually felt like a singer as appose to being in my bedroom just recording through a shitty microphone. She's fantastic and her songs are brilliant too. 
Who would be in your super group dead or alive?
That's really difficult, but I think I'd have Mani on bass, Mitch Mitchell on drums. I would have Steven Duffy on backing vocals, John Lennon on lead vocals and guitar, and Mozart on piano, because come on they don't get any better than Mozart do they ?!
What is your favourite song of all time?
That's also tough but I'd have to say Mr Brown by Bob Marley.
What can we look forward to from you?
Well I'm playing some summer festivals playing with Toots and the Maytals with The Specials that's coming up shortly like next month, I'm really looking forward to that and I'm starting to mix a PP Arnold album which is going incredibly well.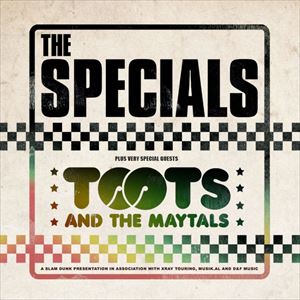 Tickets for The Specials and Toots & The Maytals at Leeds can be purchased here…http://www.seetickets.com/event/the-specials/millennium-square/1041258
Vida's single 'Where We Came From' recorded with Steve Cradock will be available May 2017, the b-side 'Going Around'  features on the Northern Exposure Compilation Album available on pre-order at www.northern-exposure.co/shop/ you can follow Steve Cradock, OCS and Vida on the links below. 
Steve Cradock:
Ocean Colour Scene:
www.youtube.com/OceanColourSceneBand
Vida:
http://www.twitter.com/wearevida
https://www.facebook.com/wearevida/