James are back with their 15th studio album Living In Extraordinary Times and in mine and Saul Davies eyes it's the best one yet.
35 years of producing music and bringing joy to many fans all over the world, it is without a doubt that James have an extensive catalogue of huge sing along hits ready to please any crowd, whether that be a crowd of 30 thousand people at a festival or a couple of hundred in the local working men's club after big Derick's chucked a quid in the jukebox.
We caught up with Saul Davies, Violinist and guitarist of the band to get all the details on Living In Extraordinary Times and their upcoming tour with The Charlatans.
You've had a couple of years off since Girl At The End Of The World was released in 2016, how's the break been?
We've not really had that much of a break because we've been writing this album. We've not obviously been out there that much in the world publicly but we've all got together and got our heads down in Sheffield actually and had a few rehearsal sessions in a recording studio there and wrote the songs that became Living In Extraordinary Times. We've done some odd bits as well we went to Australia and New Zealand with the record and did some bits there. So yeah, we've been less busy than what we are now, but we've still been practical and hidden away writing.
Growing up I use to think that being a musician in a huge band was nothing, but wild antics and it wasn't until I started interviewing bands that I realised musicians are just normal people living normal lives. So, what's a normal day like through the eyes of Saul Davies?
Well, I live in the very far north of Scotland so when I'm not in the band by life's probably very different to anyone else's because I don't live in an urban environment I'm just in the middle of nowhere. So, my days are very much orientated around my kids really and making sure they're all cool. Their mum lives abroad so my life is pretty much revolved around them. They see her in the holiday times but most of the time they are around me. I just do what normal parents do I just do it in a strange place but it's also an amazing place to do it. It's a privilege to live the life we do, we don't have to lock our doors, worry about weird things happening. It's just us, the cats, the chickens and the dogs. It's about is un-glamorous as it could get.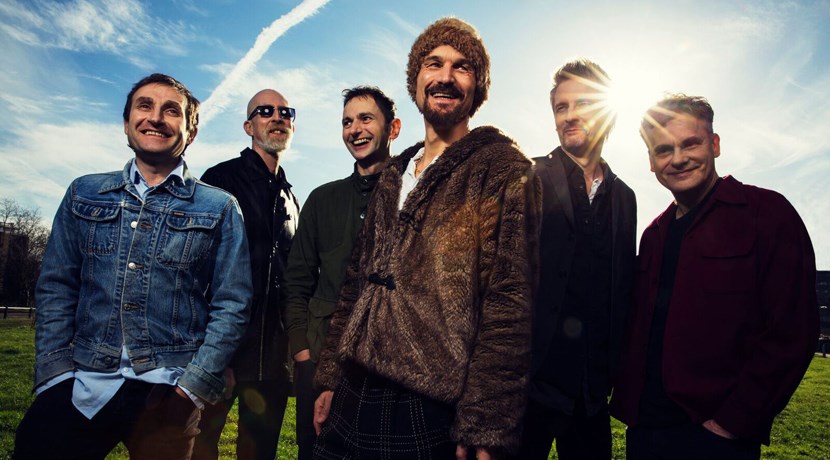 Speaking about your children are they musically interested? And are any of them in bands?
My boys he's about to become 17, he was in a little band at school. He's self-taught at quite a lot of instruments and he's starting to get really good, but he's not really interested in the band life at the moment. My daughter she's only 11 but she loves to sing her heart out. Occasionally, when we're in a public place she'll just burst out an old Scottish folk song acapella in a room full of people. She did it recently in a dressing room full of people when we played Rock In Rio festival. It's a very highland traditional thing to do to just stand up in the middle of a room and just sing acapella unaccompanied.
With the deterioration of music publications and obviously the unfortunate decline of the NME ceasing to print, there's been a lot of circulation that guitar music is dying. Bands like James are proving this wrong, so what are your views on this?
I just think it's probably not true is it. It's not dead or dying. I think things definitely do come and go in ways. I don't see that as part of the process really. I suppose you could say there isn't a huge massive wave of anything particular happening in guitar music at the moment. There's always new bands. Has there been more bands than ever before and there's more festivals than before. The industry just changes it has to. Everything in our lives has to change. I don't see any time soon no one wanting to play the guitar, there's nothing better than getting a guitar, plugging it in to an amp and creating a fucking racket or bashing drums. It's never going away.
Living In Extraordinary Times is the 15th studio album to be released by James, what do you think has changed since Stutter was released in 1986 to now?
Not too much really but in some ways, everything has changed. The ethos of the band is the same, we're older obviously, wiser probably. Really though, it's the same not entirely but it's pretty much the same people with the same attitude. We're writing in the same way, jamming and just making an unholy racket in the attempt to make some new music. We've always had a different attitude to others and we have a unique voice. I joined in 89′ so I wasn't a part of Stutter but I knew the band then and we've gone through changes like every band if you played Stutter at the side of Living In Extraordinary Times they sound totally different, obviously as they was created 35 years apart. But the ethos and attitude are the same and I don't see that ever changing.
The albums produced by Mercury and Brit award winner Charley Andrew, what made you come to the decision to work with Charley and what has his influence been like on the band and the record?
We've wanted to work with Charley actually for a number of years. Tim our singer was really determined to get the opportunity to work with him and due to schedules, we could never get it to work, fortunately we had the chance to pull it off on this record. It was great to work with him. The record is co-produced by Beni Giles who we've been working with on our demo's. We didn't know much about him, but he came very highly recommended from our label. We were anxious to try and do different rhythmical stuff on this record and as the demo's was forming we could see that it was starting to happen. We wanted to push the process and we got stuck at times as everyone does, and I don't just mean that from a musical perspective everyone gets stuck no matter what walk of life you live. Once we got in the studio with them both things started to get stirred up and we had all these ideas and they got it and that's the beauty of them both. Charley's cool and he's really good at organising people as well, when you've got a band of 8 people you need to be organised. We worked very quickly and put it together very quickly we used a lot of the demo's and jam parts that we'd done, which is cool man because it seemed quite raw and true.
I've listened to the album and my favourite track has to be Hank which opens the album. The keys, electric riffs, heavy drum beats and isolated vocals is absolutely mesmerising. What's your favourite track from the album and why?
Ahh thanks man that really means a lot. Wow, oh I don't know. Actually, there's a track that was on the EP that came out before the album called 'Broken By The Hurt' which I really love and I think its not going to be heard by most people. We didn't put it on the album and I really, really love it. And the I love the angularity of the guitar I did against Tim's Vocals. One of my favourite guitar players is Robert Smith and there's a guitar line in that song which I just did when we were having a jam which reminds me so much of the way Robert Smith plays and it's kind of like my homage to him really. It's so simple but I think its one of the greatest things I've ever done on a guitar and it reminds me of one of my heroes. There's a great track on the album though called 'Picture Of This Place' which I really love, and we haven't quite got there with playing it live but I can't wait until we do. You think you've got the song and then bam it just kicks in and it takes you to a whole other level.
You've had a busy couple of months behind you with the intimate shows played last month and Latitude a couple of weeks ago then Party at the Palace, Scarborough Open Air Theatre and Electric Fields coming up. Which crowds would you say you prefer to play to is it the festivals are the intimate shows?
They're all so different in ways you know so it's hard to say really. On occasion we don't the intimate shows and it's amazing and it's a lot more scary doing them because you cant really hide behind stuff or people it's just you on stage and a handful of people in a room who has paid to come and see you perform. But there's something amazing about festivals, the Latitude gig we did a few weeks ago was blinding. I'd say it's really probably one of the best shows we've ever done. It was a dangerous gig there wasn't really any hits in the set-list we played a lot of new stuff towards the end and played a catalogue people aren't really familiar with. Fuck me, it was bonkers though this tent held 20 thousand people and it was rammed all way to the back out the tent pouring out of the sides and the atmosphere was just amazing.
James have now got 15 studio albums and extensive catalogue of huge hits, how hard is it to pick a setlist for a gig?
It's really hard its such a constant annoyance. We try and change things round gig to gig and definitely tour to tour. It's very frustrating someone wants to do that someone else doesn't want to do that. Someone wants to do this, but we haven't rehearsed this, but it'll be alright, oh no what about that. Let's do a different version of this. It's just really annoying.
Finally, you're embarking on a 4 day tour with charlatans in December, the tour seems to be a bit short in my eyes to celebrate the release of a 15th album which some bands can only dream of. Can we see something special coming our way after this?
We're doing 4 date's but it might actually turn out to be 5. We are looking to do something next spring a much much bigger tour. We recognise like you and a lot of other people it's not that much of a big celebration. It still is a lot of people, but we will be looking to do something next year. We're thinking about stuff, but nothings set in stone at the moment. We're going to New Zealand, Australia and Dubai in November and then we come back. We've been offered dates in Greece, Portugal and Spain in the New year but hopefully we will see you on some other dates next year. 
You can get your copy of the new album here: https://jamesofficial.lnk.to/LivingFA or from your friendly neighborhood record shop TODAY!
For further details and all tour dates visit wearejames.com. 
FACEBOOK: james-the-band
TWITTER: wearejameswearejames
You-Tube: WeAreJamesTV
BRADLEY FOSTER